Strong, Light Weight, Autoclaved
Best NCL AAC Block Suppliers in Coimbatore
ELBUILD is the authorized distributor of NCL AAC blocks in Coimbatore. AAC Blocks are a great building material that is used a lot today because they are lightweight, strongest, and environmentally friendly. NCL AAC Blocks in Coimbatore is the optimal solution for all kinds of building constructions, including schools, hospitals, corporations, hotels, individual homes, and apartments. Most construction companies are preferring AAC blocks which are better than other conventional materials like bricks, stone, and clay.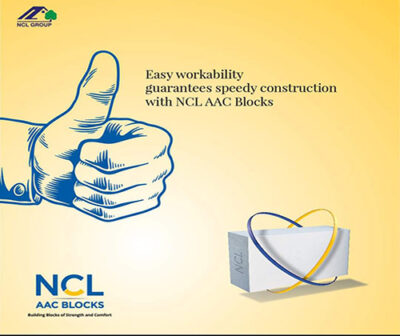 Manufacturing Properties Of AAC Blocks
So Why Are You Still Waiting?
Call Us Right Away to Receive Your Free
Estimate or Know More About
Our NCL AAC blocks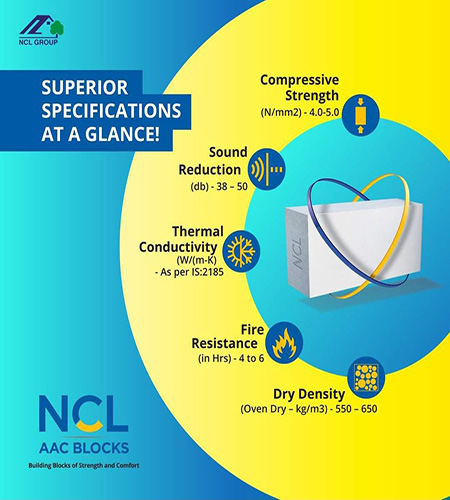 Technical Specification of AAC Blocks:
| | |
| --- | --- |
| Compressive strength(N/mm2)) | 4.0 |
| Dry density(over Dry – kg/m3) | 550-650 |
| Sound reduction (db) | 38-50 |
| Thermal Conductivity (W/(m.K)) | As per IS: 2185 |
| Fire Resistance (in Hr.s) | 4 to 6 |
Sizes That Suit Your Requirement :
| Length | Height | Thicknesses |
| --- | --- | --- |
| 600 mm | 200 mm | 100/150/200/225 mm |
For Speedy Construction Use NCL AAC Blocks
Workability & Easy Installation
NCL AAC Blocks are light in Weight and is simple to cut, drill, nail, grind, and groove it to match specific needs.

80% of the blocks weight is made up of air, which makes them lighter.
Faster Construction
The quick construction is made possible by the large size, accurate proportions, few joints, and short drying times.

NCL AAC Blocks are 4X bigger than clay bricks
Certified Fire-Resistant
Unique cellular structure makes AAC Blocks fire-resistant

A 6″ NCL AAC block can withstand exposure to fire up to 6 hours and is BFRC certified IS 3809
Termite Resistant
Our NCL AAC blocks are made of inorganic components.

Since it is the resistant, which benefit in preventing pests like termites from entering the construction.
Build With The Best
AAC Blocks Suppliers in Coimbatore
ELBUILD, the Best AAC block Dealers in Coimbatore, we recently introduced ground-breaking building material to our dedicated customers. Our AAC blocks may guarantee that whatever you are creating will last for centuries and beyond because they are lightweight, pest and weather resistant, environmentally friendly, and strong enough to withstand earthquakes.

High Fire Resistance

Ease of Workability
Superior Sound Insulation

Eco Friendly

Light Weight
Dimensional Stability
Savings on Overall Project Cost of NCL AAC Blocks
Labour & transportation cost is low

On jointing & plastering mortars

Conserve project implementation time

On steel by 20 – 25% & concrete by 10%

Thermal Insulation that reduce load on air conditioning

Superior sound insulation with STC rating of 44.