Manufacturers of  UPVC Doors and Windows in Coimbatore
ELBUILD is one of the leading UPVC doors and windows dealers in Coimbatore. They are durable and can withstand anything. We are the best UPVC windows manufacturers in Coimbatore and an excellent choice for your residential and commercial purposes.
At ELBUILD, we analyse which materials are ideal for your home's location, regional climate, and architectural style. The right material can make a world of difference.
Enhance Your View With  ELBUILD's
UPVC Windows and Doors Dealers in Coimbatore!!
UPVC Sliding Doors
UPVC Bi-Fold Doors

UPVC French Doors
UPVC Casement Windows
UPVC Awning Windows
UPVC Tilt and Turn Windows
Low Maintenance Build Material
Top UPVC Manufaturers in Coimbatore
UPVC, also known as Unplasticized Polyvinyl Chloride, is a low-maintenance building material. It used as a substitute for painted wood, for window frames and sills. When installing double glazing in new buildings, or to replace older single-glazed windows. Low conductivity material minimizes heat transfer in warmer climates and provides excellent thermal insulation in cooler climates.
ELBUILD, a UPVC manufacturer in Coimbatore, offer customers the option to personalize the styles of their door and window designs.
UPVC Bi-Fold doors
The UPVC Bi-fold doors have two to seven leaves that may be folded and layered on top of one another in a corner to free up a room for various purposes. These doors can be opened both inwards and outwards and are more secure than regular doors. We at ELBUILD provide an innovative design for bi-fold doors.
UPVC Sliding Doors
The UPVC Sliding Door has two or more panels that move horizontally on the exterior frame. Our UPVC sliding doors make it simple to access from the outside area. These sliding doors ensure high safety and security with multiple locking features, and they are also water resistant, smooth sliding, and improve ventilation

UPVC Casement doors 
The UPVC casement doors can be opened either inside or outside, depending on the available space.These doors are highly durable, water resistant, and sound resistant. ELBUILD provides you with a best UPVC doors manufacturers in Coimbatore with a variety of designs and with multiple locking security features.

UPVC French doors
The UPVC french doors can be opened either inwards or outwards based on your requirements. They are the most secure type of door since there is only one handle that can be used to open them from the inside, ensuring security for the house. ELBUILD's UPVC doors are provided with multiple point locks for high security.
The Advantages of  UPVC Doors &  Windows
Our UPVC doors and windows prices in Coimbatore are reasonable,energy-efficient, low-maintenance, long-lasting, and highly secure.
They also block out noise, dust, and pollution.
Aesthetics

They are elegant with a touch of a modern and trendy look.
Security

In addition, UPVC provides top most security for everyone.
Low maintenance

Basically,UPVC is a one-time investment that does not require expensive maintenance.
Customizable

These UPVC windows and doors in Coimbatore have a variety of designs and styles.
Thermal insulation

Especially, they are ideal for all climatic conditions and provide a comfortable ambience.
Soundproof

Moreover,UPVC reduces the external noise by 50% compared to traditional doors.
Best UPVC Windows Dealers in Coimbatore
ELBUILD is the top UPVC window suppliers in Coimbatore, which is safe & secure, water proof, energy efficient and maintenance free. As well as the UPVC windows prices in Coimbatore are affordable and continuously in demand due to their superior quality and outstanding durability.They require no maintenance, which saves time and money. Windows makes your house personality, providing them an essential part of the home.
ELBUILD offers the most exclusive designs for all types best UPVC windows in Coimbatore.They are customized with a truly unique touch and the UPVC Windows price per square feet in Coimbatore are comparatively reasonable.
UPVC Casement Windows
These UPVC casement windows are 100% soundproof and thermal insulated. They are best suited for tall and narrow window spaces.They open outwards and inwards with the help of  hinges attached to the frames. The multi-locking features with laminated glasses make these windows extra safe! Make your home a bit more modern and classy.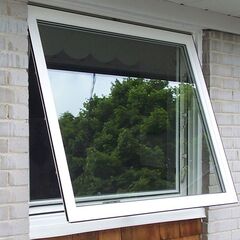 UPVC Awning Windows
It might be difficult to find the right fit for your kitchen, bathrooms, and storerooms. They serve as alternatives for those who prefer traditional windows. These UPVC Awning Windows help the outside air to flow inside from these specially designed windows with hinges fixed at the bottom or at the top. ELBUILD is the proud distributor of these specialised UPVC awning windows across cities
UPVC Sliding Windows
These UPVC windows are the apt choice in the event of a space crunch. They also have multi-tracks with multiple locks!  The specialized glass in UPVC windows makes your window extra beautiful and stable. These windows are easy to operate, brighten up your room and let you get a great amount of ventilation. Which are comfortable to use, cost-effective, and highly reliable!!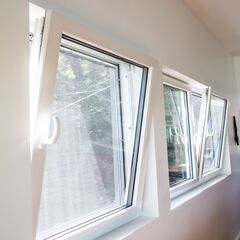 UPVC Tilt and Turn Windows
These UPVC windows are generally made for nature lovers out there, where they are blown open by cool breezes. They have a classy appearance and are extremely thin. They are renowned for their long-lasting durability, heat insulation, and waterproofing capabilities. We offer you a huge collection of UPVC window products that are best suited for your home.